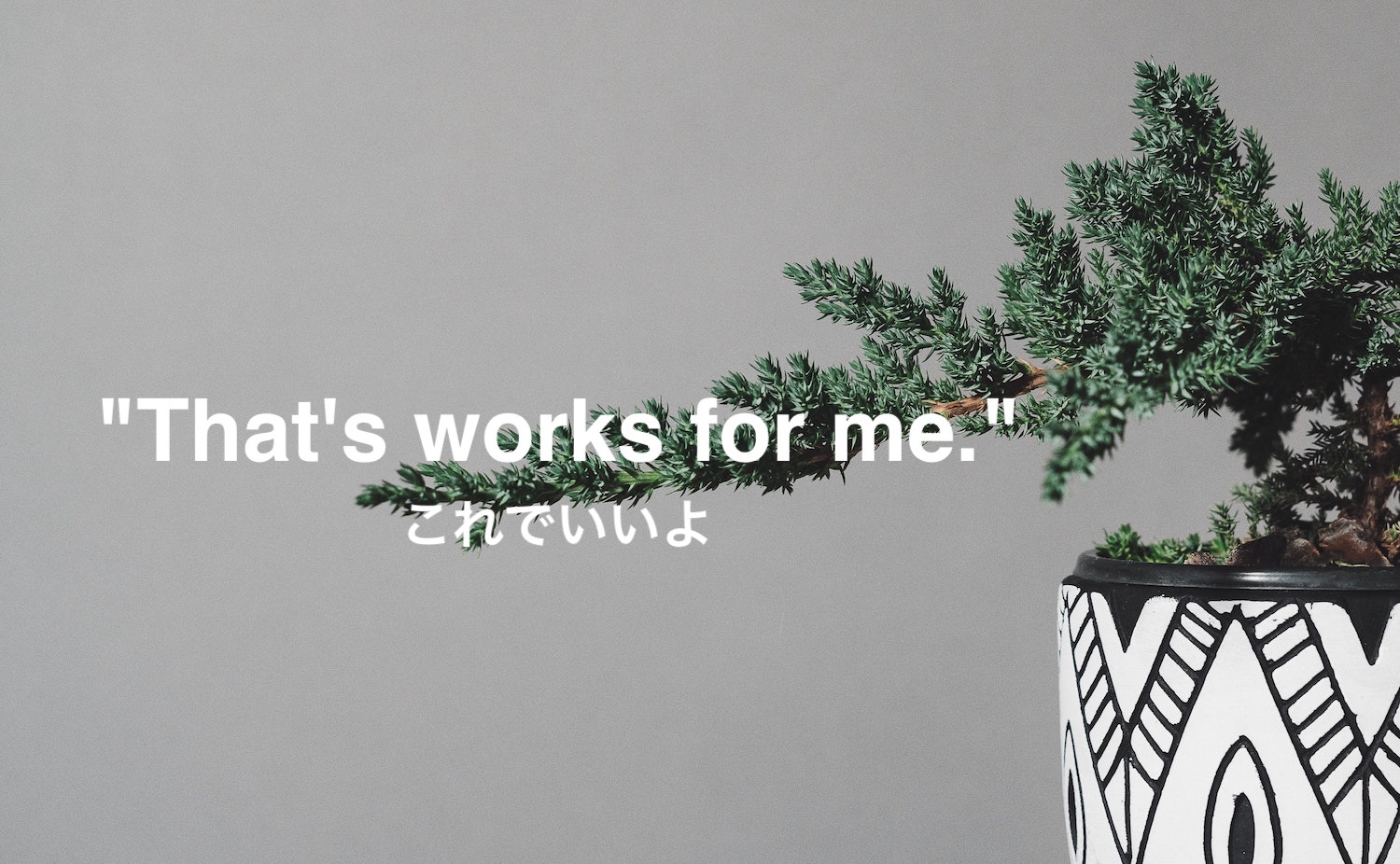 Photo taken by Scott Webb of Unsplash.
A system that says "That's works for me."
With spreadsheet software and ForMe, you can create a business system that allows you to easily create forms, to-dos, checklists, etc., without the hassle of dedicated accounts, add-ons, and internet connections.
ForMe consists of an Android app and spreadsheet macros, making it the perfect tool. Since it is designed and implemented to make effective use of the basic functions of PCs and Androids, there is no need to install extra add-ins on the PC side.
It comes standard with basic functions such as a convenient form for keeping records, a To-Do list for giving instructions, and a check sheet for checking inventory. The creation method is to create a table with spreadsheet software, convert it to QR code or CSV with the included FormeStudio (compatible with Excel, calc, and spreadsheet), and read it with ForMe.
You can customize your device with the folder function and various shortcut creation functions. In addition, using front-side technology and a simple development environment, it is also possible to develop apps that can be run in a completely sandbacked and secure environment.
It is also possible to run a single Html file in an external browser if you need to use APIs on the Internet.
For file sharing, it supports many methods such as proprietary BlueTooth file transfer, external folder registration function, USB storage, and sharing with third-party applications.
In addition, it has many functions such as memo function, QR code reading, various text files, and diagrams.
Even offline, if you have the ForMe app and spreadsheet software, you can build a system that says "That's works for me."
The name of the Android application is ForMe, and the name of the entire service such as bundle files is Forme.
---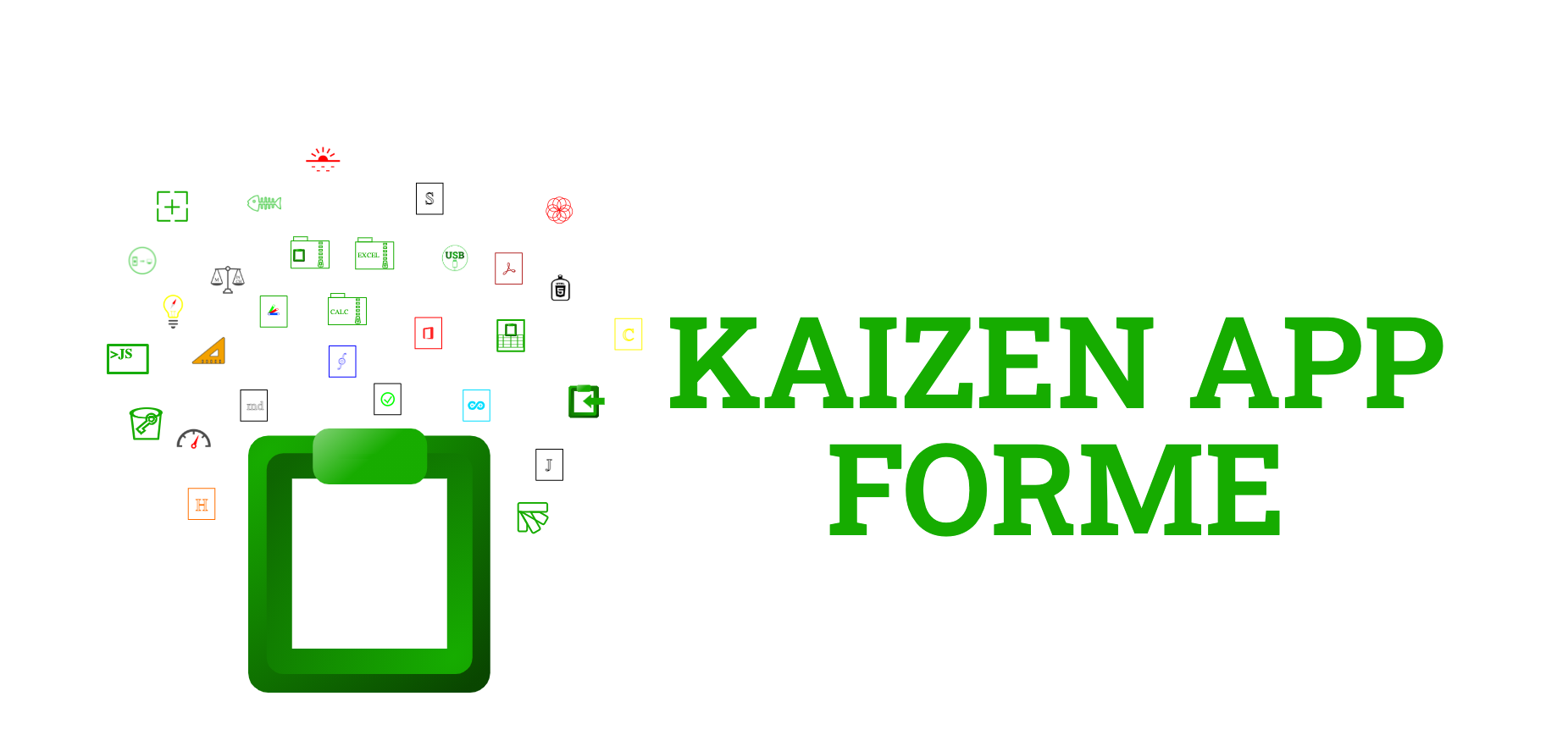 Give Kaizen the power of code.
Kaizen is proud of Japanese manufacturing sites. It has played a role in postwar reconstruction and has contributed to improving the quality and monetization of Japanese products. The method that was born in the Kaizen (QC) activity still remains. However, it is also important to introduce new things in the modern age of IT. The Internet is full of useful tools.
The Internet has to be very convenient in private life, but when it comes to production activities, it's a different story. At many production sites, it may be difficult to prepare a new Internet environment for various reasons, and it may be postponed. As a result of wondering if IT could be used for Kaizen activities even at production sites without an internet environment, I came up with one answer.
"It can be said that it is already flooded, and it is only necessary to allow users to code and implement the minimum required functions for smartphones that are in widespread use."
From such an idea, Forme, which started development, has evolved into an app with three modes: handy terminal and assist,code.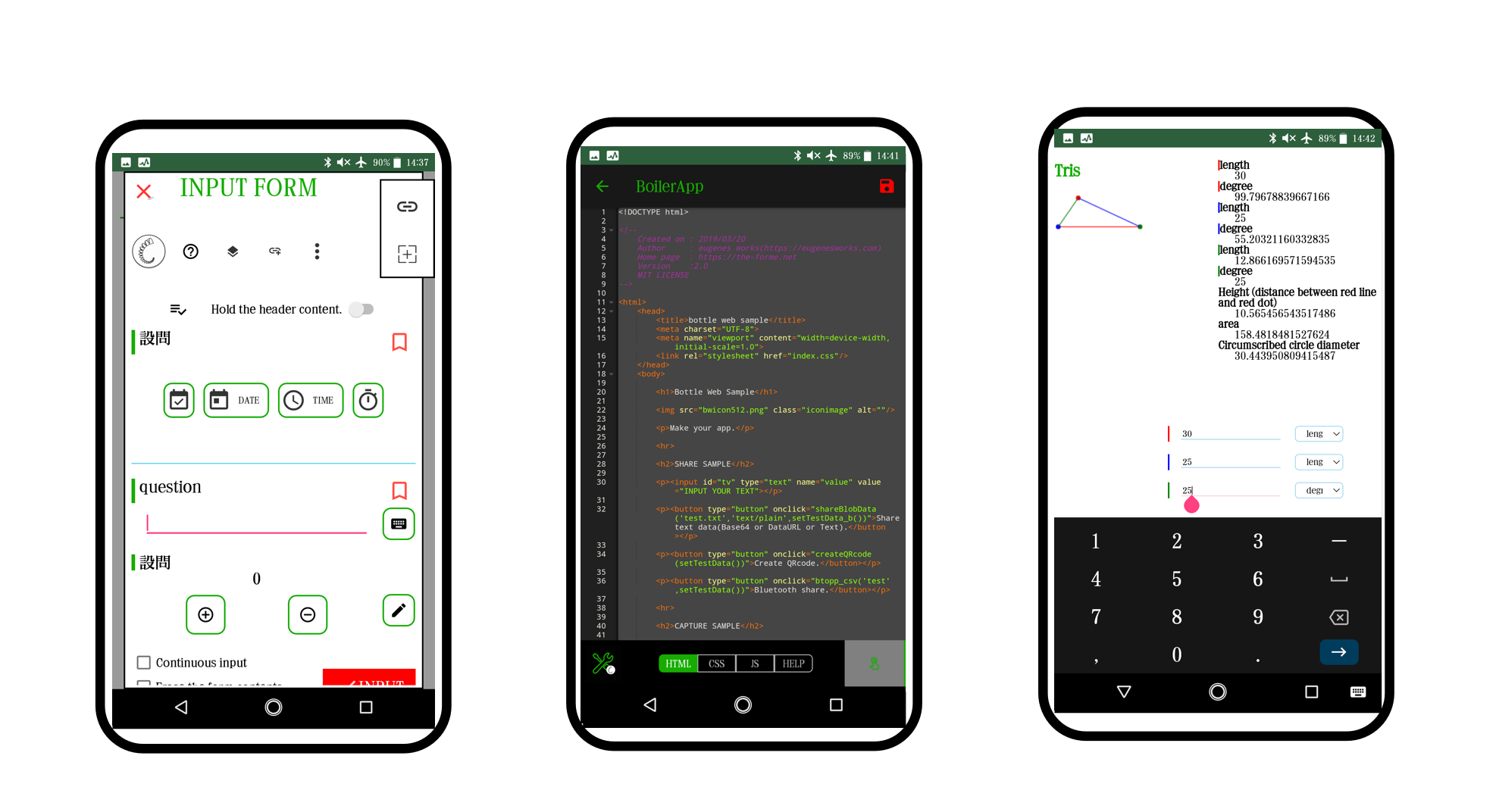 Ishikawa Diagram creation function. It also has a ToDo creation function that is useful for task management. Coding in a stand-alone, sandboxed and secure environment It is possible to create mini-apps using front-side technology, which is said to have a relatively low learning burden. The fixed file structure allows you to focus on coding. It comes with PINBADGE, which is a collection of functions such as trigonometric ratio calculation and binomial distribution calculation used for sampling inspection.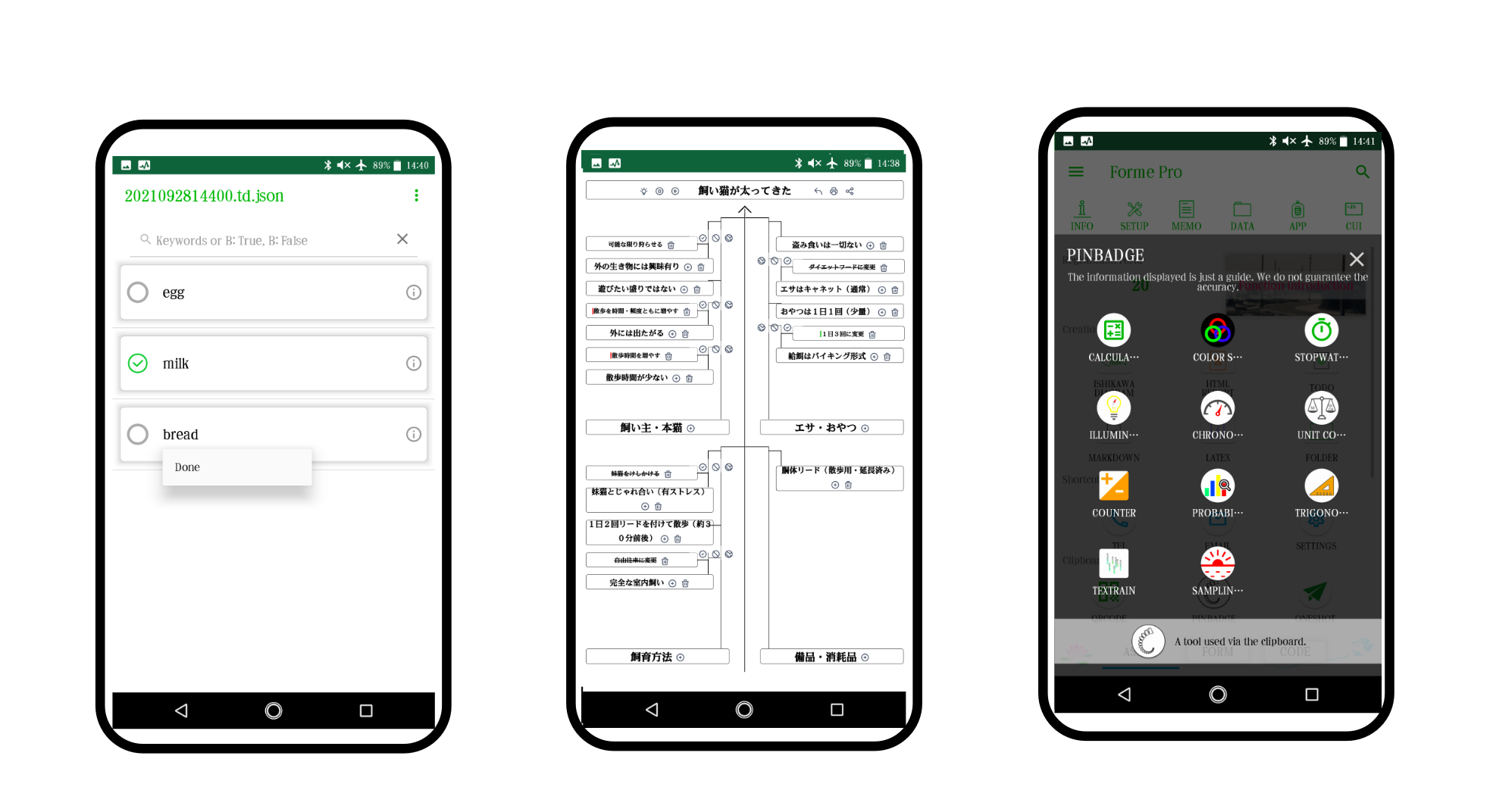 For data sharing with a PC, it is possible to use the independently implemented BlueTooth file transmission function, USB cable, and each application. Communication function with Arduino that will bring a big leap to Kaizen activity, HTML form function that can change img element, LaTeX editor with simple viewer, By combining many functions such as a shortcut creation function for each function that can be used to customize the terminal, the time and effort for preparation is reduced.
As a first step toward DX, why not start by installing ForMe on an old Android device (4.1 or higher for handy terminal function and 5.0 or higher for other functions is recommended).
Make your smartphone a handy terminal.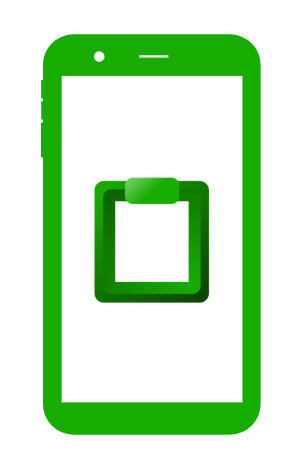 Handy terminals used in manufacturing and distribution sites. It is an essential part of information management, but in reality there are many things that are expensive even if you only want basic functionality. ForMe(For-me) is an application that can make your smartphone a handy terminal. It is designed to boot on older terminals, so you can reuse terminals that you no longer need. Set up a table with spreadsheet software such as Excel, and create a QR code. Just read the QR code with the app.
Collected data can also be exported in a general-purpose CSV format, so it can be said to be highly compatible with existing systems. If you want to manage in Excel, you can easily import CSV data by using the dedicated FormeStudio.xlsm. The app (FormeQRCoder.html) that allows you to create QR codes of up to 1350 characters and the spreadsheet-based FormeStudio are built into the app, so you're ready to download the app.
Get the benefits of IT technology offline.
Paper data in various places
Can you make use of the records?
In the age of AI and Industry 4.0, if you can connect to the Internet, you can use magical techniques.
However, there should be many offline places that can not connect to the Internet.                              In many cases, it is probably not paper and Excel that supports activities that support society, such as work and research.
The Forme series reduces the effort of data entry. Let's save time and effort to enter data and use the data.
We will replace paper and pen with offline form applications and enhance data by strengthening Excel used in many workplaces.
Example (Equipment management)
Normal
description
ForMe

Create recording paper.

Create form from table.

Record warehousing of supplies.

Data input.

Collection of recording paper. & Data input.

Data transfer.

Analysis & Create report.

Analysis & Create report.
・・・
Forme Series
ForMe Pro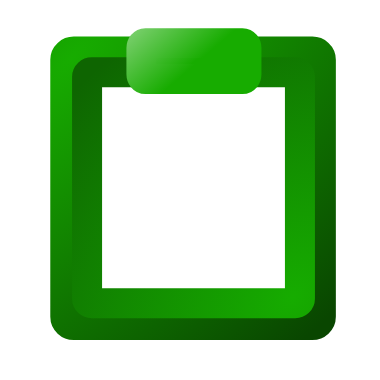 KAIZEN application
You can use the terminal like a handy terminal. Even with older devices It is designed to be usable. Features such as simple PDF viewer and barcode reader,ForMe alone can do a variety of things.
FormeStudio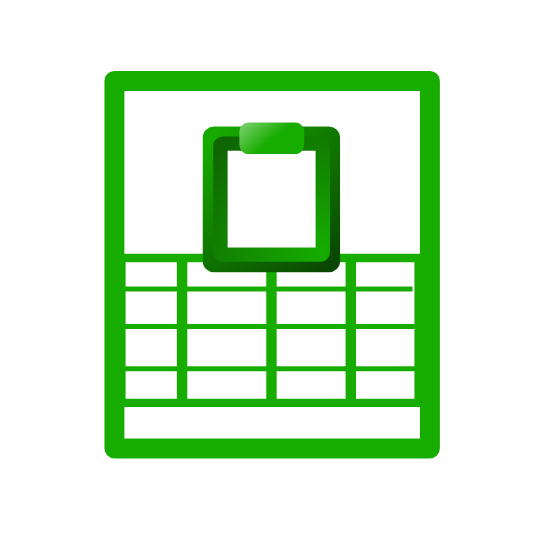 Spreadsheet-based Forme integration program
You can create your own concatenated QR code of up to 1350 characters, set forms, tasks, etc. in ForMe, and aggregate CSV data of ForMe. It also has an insert / remove printing function that works with the auto filter. Excel VBA, Calc Basic, Google Spreadsheets GAS makes it easy to deploy in many workplaces.
Since it is compatible with both Windows and Mac, it can be used even in an environment where both OSs exist.
Please use it as the base of your system.
Forme/on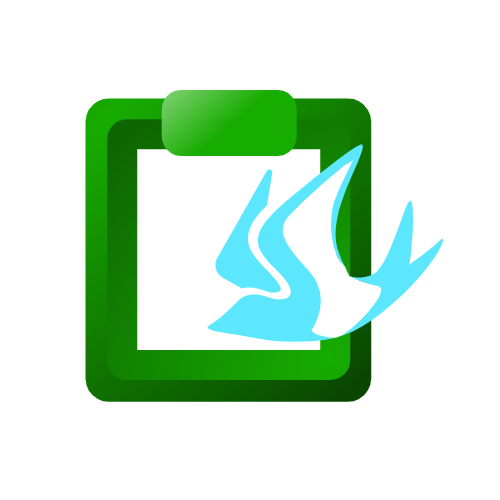 Offline form system
It is a form system that can be used for simple questionnaires. Recommended for counters where the Internet environment cannot be prepared, and for DX conversion of reception work.
・・・
FormeQRCoder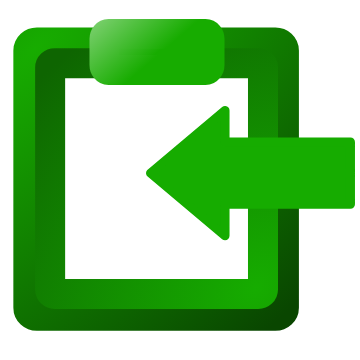 QR code creation HTML application
It is a QR code creation HTML application created to transfer form setting data to ForMe. Supports the creation of uniquely linked QR codes of up to 1350 characters. Any modern browser can be used. It is designed to be used offline. It's a single page, so it's easy to manage.
・・・
All Forme series are designed to be available offline.
You can manage folders on secure storage.
・・・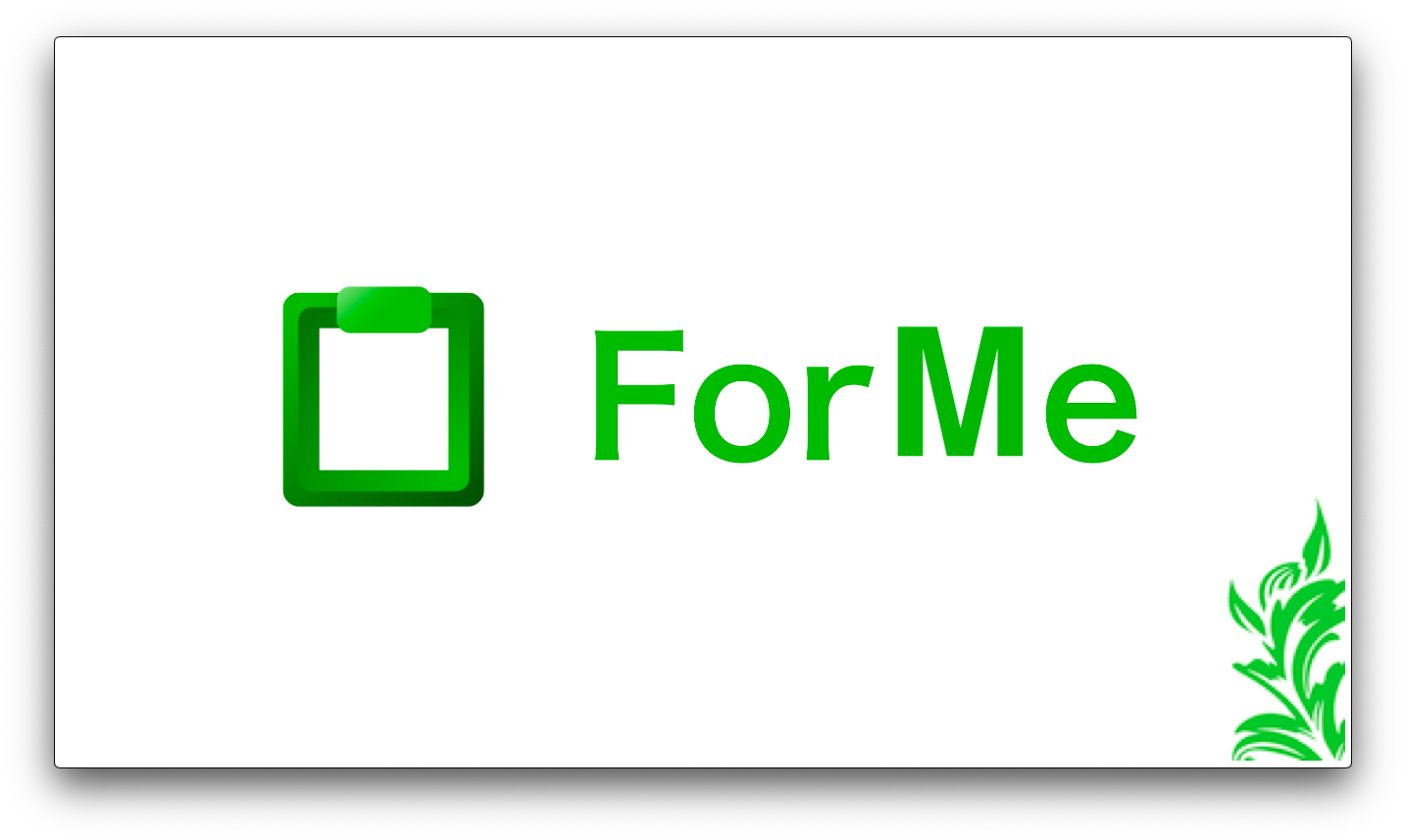 Pro & Go
It corresponds to 99.4% of Android terminal. FormeStudio and FormeQRCoder are set, Just by installing, you can quickly create your system.
Form

Ideal for data input of spreadsheet software.

Easy

You can create a form in a few steps from the table.

Diversity

You can use a number of spreadsheet software.(Microsoft Excel and LibreOffice Calc)

Parts

There are a variety of parts, such as a bar code.

All in one

The cooperation program FormeStudio and FormeQRCoder are included in the set.

Off-line

You can completely offline use.

BottleWeb

Html5 application execution environment is included.
ForMe Go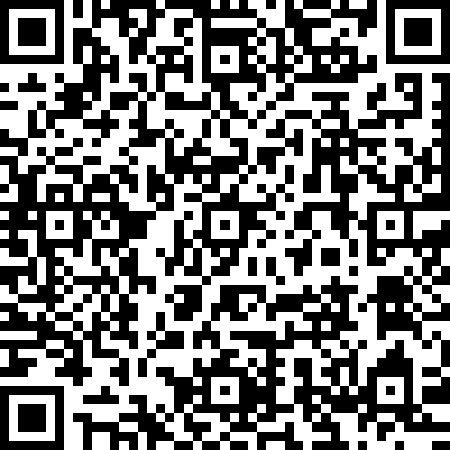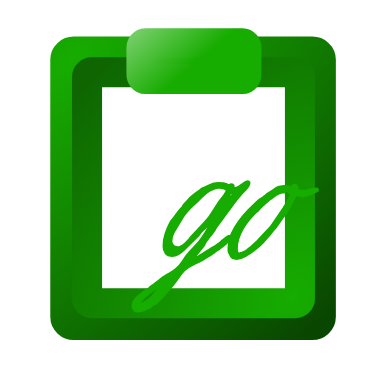 ForMe Pro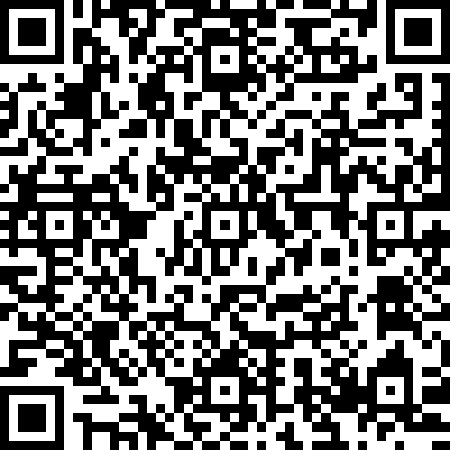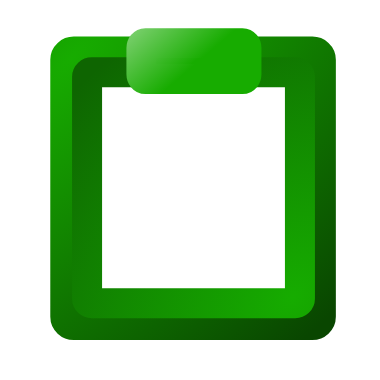 Excel, Microsoft Excel, Windows are trademarks of Microsoft Corporation. Android and Google play are trademarks of Google Inc. Mac is a trademark of Apple.